Travel Info! | ¡Información de viaje!
Never been to Colombia? Wondering what to expect? We have your answers!
¿Nunca has estado en Colombia? ¿Te preguntas qué esperar? ¡Tenemos las respuestas para ti!
Need more info? Reach out to us at icee.icom@gmail.com and we will reply directly!
¿Necesitas más información? ¡Contáctanos en icee.icom@gmail.com y te responderemos directamente!
Safety and security
Medellin is no longer the crime epicenter that it was 20 years ago.
It's important to know that the city has made significant progress in improving safety in recent years.
During the 1980s and early 1990s, Medellin was known for high levels of violence and crime with the homicide rate reaching 420 per 100,000 citizens. During this period the number of bombings, assassinations, and kidnappings escalated as the drug cartels battled with the Colombian government and rival criminal organizations for control of the drug trade. Political instability, economic inequality and poverty added to this complex situation. After Escobar's death in 1993, the situation in Medellin started to improve.
The city now has the lowest ever rates of violent crime in its history. The mayor's office has stated that the period between 2020 and 2022 has been the least violent in the city's history and that the rate of deaths per 100,000 inhabitants during this time, not seen since early 1970s, according to figures validated by the Institute of Legal Medicine.
To assist in security Medellin has installed 3,000+ monitored security cameras. It also offers rewards of up to $40 million for information leading to the identification of those responsible for homicides and up to $80 million in cases of femicides or crimes against the LGBTQ+ population, with the promise to double this amount in 2023.
The map below gives you a general idea of where to avoid Medellin. From a tourism perspective there is really no reason to be visiting most of the areas shaded in orange and red. If you want to visit a barrio popular ("favela") we recommend you do so from the comfort of the Metro Cable , with a trustworthy friend or on a tour with a professional tour guides.  When visiting the tourist sites in El Centro, use common sense. Stick to the routes suggested in our Medellin Walking Tour Map. (https://www.medellincolombia.co/)
Seguridad y protección
Medellín ya no es el epicentro del crimen que era hace 20 años.
Es importante saber que la ciudad ha hecho avances significativos en la mejora de la seguridad en los últimos años.
Durante la década de 1980 y principios de la década de 1990, Medellín era conocida por altos niveles de violencia y crimen, con una tasa de homicidios que llegó a 420 por cada 100,000 habitantes. Durante este período, el número de atentados, asesinatos y secuestros se incrementó mientras los carteles de la droga luchaban contra el gobierno colombiano y otras organizaciones criminales rivales por el control del comercio de drogas. La inestabilidad política, la desigualdad económica y la pobreza añadieron a esta situación compleja. Después de la muerte de Escobar en 1993, la situación en Medellín empezó a mejorar.
La ciudad tiene ahora las tasas más bajas de crimen violento en su historia. La alcaldía ha afirmado que el período entre 2020 y 2022 ha sido el menos violento en la historia de la ciudad, y que la tasa de muertes por cada 100,000 habitantes durante este tiempo, no vista desde principios de la década de 1970, según cifras validadas por el Instituto de Medicina Legal.
Para ayudar en la seguridad, Medellín ha instalado más de 3,000 cámaras de seguridad monitoreadas. También ofrece recompensas de hasta 40 millones de pesos por información que conduzca a la identificación de los responsables de homicidios, y hasta 80 millones de pesos en casos de feminicidios o crímenes contra la población LGBTQ+, con la promesa de duplicar esta cantidad en 2023.
El mapa a continuación te da una idea general de dónde evitar en Medellín. Desde una perspectiva turística, realmente no hay razón para visitar la mayoría de las áreas sombreadas en naranja y rojo. Si deseas visitar un barrio popular ("favela"), te recomendamos hacerlo desde la comodidad del Metro Cable, con un amigo de confianza o en un tour con guías profesionales. Al visitar los sitios turísticos en El Centro, utiliza el sentido común. Sigue las rutas sugeridas en nuestro Mapa del Recorrido a Pie por Medellín. (https://www.medellincolombia.co/)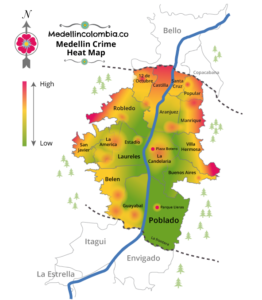 Adapter plugs | Adaptadores de enchufe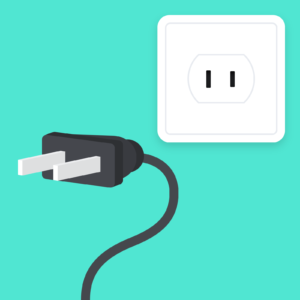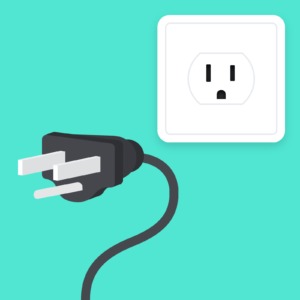 For Colombia there are three associated plug types, types A and B. Plug type A is the plug which has two flat parallel pins and plug type B is the plug which has two flat parallel pins and a grounding pin. Colombia operates on a 110V supply voltage and 60Hz.
Para Colombia, hay tres tipos de enchufes asociados, los tipos A y B. El enchufe tipo A es el enchufe que tiene dos pines planos paralelos, y el enchufe tipo B es el enchufe que tiene dos pines planos paralelos y un pin de toma de tierra. Colombia opera con un voltaje de suministro de 110V y una frecuencia de 60Hz.
Currency | Moneda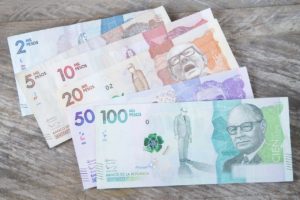 Colombia's official currency is the peso, which is abbreviated as COP. Prices in Colombia are marked with a dollar sign, but remember that you're seeing the price in Colombian pesos.
Bills in Colombia are in denominations of $1,000, $2,000, $5,000, $10,000, $20,000, $50,000, and $100,000. Coins in Colombia got a makeover in 2016, so you may see two different versions of the same coin amount. Coins in Colombia are in denominations of $50, $100, $200, $500, and $1,000. The equivalent of cents is centavos in Colombian Spanish.
Most banks in Colombia do not exchange money. For that, you'll have to go to a money exchange, located in all major cities. The best way to get cash is to use your bank ATM card.
£1GBP = 5200 pesos (approx.)
$1USD = 4000 pesos (approx.)
€1EUR = 4500 pesos (approx.)
La moneda oficial de Colombia es el peso, que se abrevia como COP. Los precios en Colombia están marcados con un signo de dólar, pero recuerda que estás viendo el precio en pesos colombianos.
Los billetes en Colombia tienen denominaciones de $1,000, $2,000, $5,000, $10,000, $20,000, $50,000 y $100,000. Las monedas en Colombia tuvieron un cambio de imagen en 2016, por lo que es posible que veas dos versiones diferentes de la misma cantidad de moneda. Las monedas en Colombia tienen denominaciones de $50, $100, $200, $500 y $1,000. El equivalente de centavos en español colombiano es centavos.
La mayoría de los bancos en Colombia no realizan cambios de divisas. Para eso, tendrás que ir a una casa de cambio, que se encuentra en todas las principales ciudades. La mejor manera de obtener efectivo es usar tu tarjeta de cajero automático del banco.
£1GBP = 5200 pesos (aprox.)
$1USD = 4000 pesos (aprox.)
€1EUR = 4500 pesos (aprox.)
Local prices | Precios locales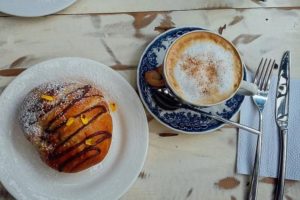 Metro ticket – 2,400 COP
Uber rides – 10km ride 15,000 COP (approx. $4 USD, €3 EUR)
3 course meal in a mid-range restaurant – 45,000 COP (approx. $9 USD, €10 EUR)
Cup of coffee – 5000 COP (approx $1 USD, €1 EUR)
Beer – 4500 pesos (approx $1 USD, €1 EUR)
Boleto de metro – 2,400 COP
Viajes en Uber – Viaje de 10 km: 15,000 COP (aprox. $4 USD, €3 EUR)
Comida de 3 platos en un restaurante de gama media – 45,000 COP (aprox. $9 USD, €10 EUR)
Taza de café – 5000 COP (aprox. $1 USD, €1 EUR)
Cerveza – 4500 pesos (aprox. $1 USD, €1 EUR)
Time zone and dialing code | Zona horaria y código de marcación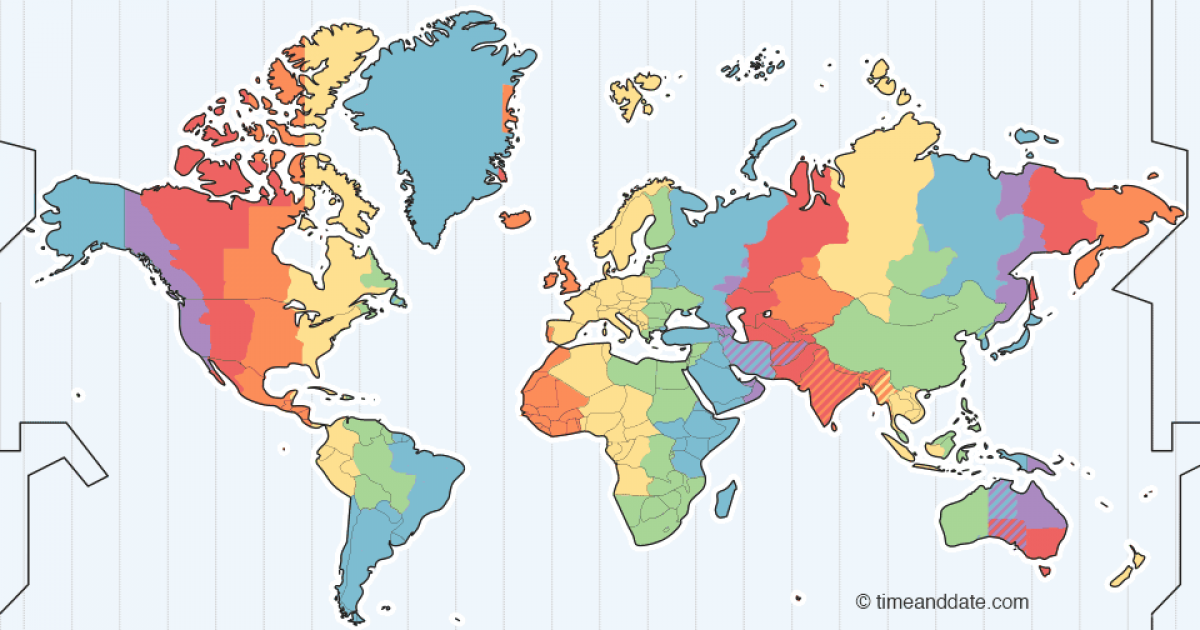 The time zone is GMT-5
The dialing code is +57
La zona horaria es GMT-5.
El código de marcación es +57.
Weather | Clima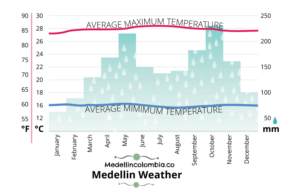 Medellín has a pleasant climate with a temperature average between 16 °C and 26 °C, (60 °F to 79 °F).
Come prepared for a humid subtropical climate which can experience frequent rainfall throughout the year, so bringing a waterproof jacket and waterproof shoes would be useful, and of course light and fresh clothing for sunny days.
El clima en Medellín es agradable, con una temperatura promedio entre 16 °C y 26 °C (60 °F a 79 °F).
Ven preparado para un clima subtropical húmedo que puede experimentar lluvias frecuentes durante todo el año, por lo que sería útil traer una chaqueta impermeable y zapatos impermeables, y, por supuesto, ropa ligera y fresca para los días soleados.
Getting around Medellín | Moverse por Medellín

Find out all about visiting Medellín here https://www.medellin.travel/
Medellin's public transit is safe and easy to use.
Medellin's award-winning metro system is only $0.69 per ride with a Civica card, which works much like a standard metro card in U.S. cities. Civica cards can be used interchangeably between buses, metros, and cable cars.
El transporte público de Medellín es seguro y fácil de usar.
El sistema de metro galardonado de Medellín cuesta solo $0.69 por viaje con una tarjeta Cívica, que funciona de manera similar a una tarjeta de metro estándar en ciudades de EE. UU. Las tarjetas Cívica se pueden usar indistintamente en autobuses, metros y teleféricos.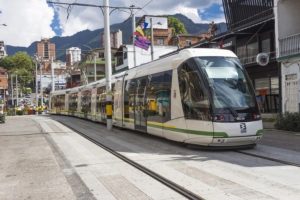 The locals of Medellin are very proud to have the only Metro system in Colombia. The routes are straight-forward and easy to navigate. The Metro system is a reliable and fast way to navigate the city. The hours of the metro are Monday to Saturday: 4:30 AM – 11 PM and Sunday: 5 AM – 10 PM. Consult the Medellin Metro website for more information.
When you buy a ticket, you can either ask for a Univiaje (single metro journey) or an Integrado (Metro journey then an Integrado bus) which costs a little extra, but at 2,300 COP it's much cheaper than buying two tickets. Buying multiple tickets for several days use is also a great time-saving option as it will help you avoid queues at the ticket office.
Los habitantes de Medellín están muy orgullosos de tener el único sistema de Metro en Colombia. Las rutas son directas y fáciles de navegar. El sistema de Metro es una forma confiable y rápida de moverse por la ciudad. El horario del metro es de lunes a sábado: 4:30 AM – 11 PM y domingo: 5 AM – 10 PM. Consulta el sitio web del Metro de Medellín para obtener más información.
Cuando compras un boleto, puedes pedir un Univiaje (un solo viaje en el metro) o un Integrado (viaje en el metro y luego en un autobús Integrado) que cuesta un poco más, pero con 2,300 COP es mucho más barato que comprar dos boletos. Comprar múltiples boletos para varios días también es una excelente opción para ahorrar tiempo, ya que te ayudará a evitar las colas en la taquilla.
Medellin's tap water is safe to drink |El agua del grifo de Medellín es segura para beber.
Medellin is one of the many cities in Colombia with an excellent water purification system, so the city's tap water is absolutely safe to drink. That also means that fresh fruits, vegetables, and street food are safe to consume.
Medellín es una de las muchas ciudades en Colombia con un excelente sistema de purificación de agua, por lo que el agua del grifo de la ciudad es absolutamente segura para beber. Esto también significa que las frutas frescas, verduras y comida callejera son seguras para consumir.
Taxis and the Airport | Taxis y el Aeropuerto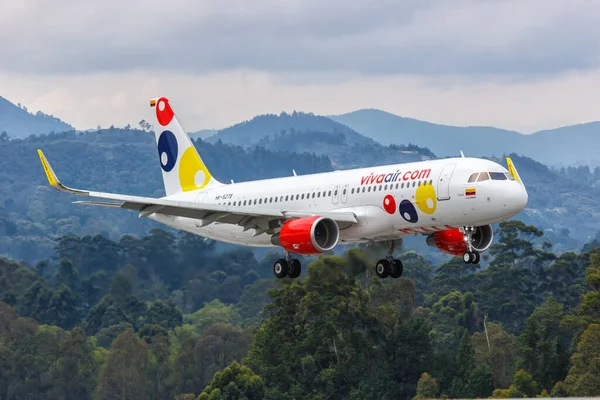 The Jose Maria Cordoba Airport (MDE) is located 32 kms (20 miles) outside of the city with an average transit time of 40 minutes. The airport is used for both domestic and international flights.
Taxis are relatively inexpensive and can be commonly found in most parts of Medellin. The minimum fare for a taxi is 4,600 COP. The meter should always be on and will start at about 2,700 COP. The only exception to the meter possibly not running is on the fixed cost taxi departing from the airport. Tipping is not required but most people round up the fare to the nearest 1,000 COP. Be prepared to pay for your taxi in cash.
When you enter or depart from a taxi, please don't slam the door or you risk the taxi driver glaring at you. The doors on the small cars are deceptively light. You can sit in the front seat or the back – there is no difference. If you have large bags, the driver will usually get out and help you with them. Avoid giving the driver 20,000 COP or 50,000 COP notes. Each taxi company has its own number to call, so you may want to ask which local company best serves your area.
If you don't speak Spanish, there are several taxi apps which work considerably well. The top two apps are Easy Taxi and Tappsi, but more recently Uber has been gaining popularity in Medellin.
Outside the Jose Maria Cordoba airport there will be plenty of taxis waiting to take you to Medellin.  Only regulated taxis are allowed to pick up passengers at the airport, so there should never be any safety issues getting a taxi at the entrance of the airport.
The fare to and from the airport is a fixed fare updated annually, currently 98,000 Colombian Pesos during 2023. You should never be asked to pay any extra for tolls or luggage. Tipping is optional and not expected.
To get back to the airport it's best to book an official airport taxi. One company that has an online reservation form is Aerotaxi. Another option is ACOA Taxi Aeropuerto.  Or, use  Uber.
El Aeropuerto José María Córdova (MDE) está ubicado a 32 km (20 millas) fuera de la ciudad, con un tiempo promedio de tránsito de 40 minutos. El aeropuerto se utiliza para vuelos nacionales e internacionales.
Los taxis son relativamente económicos y se pueden encontrar comúnmente en la mayoría de las partes de Medellín. La tarifa mínima de un taxi es de 4,600 COP. El taxímetro siempre debe estar encendido y comenzará en aproximadamente 2,700 COP. La única excepción donde el taxímetro posiblemente no esté en funcionamiento es en el taxi de tarifa fija que sale del aeropuerto. No es necesario dejar propina, pero la mayoría de las personas redondea la tarifa al próximo valor de 1,000 COP. Prepárate para pagar tu taxi en efectivo.
Cuando entres o salgas de un taxi, por favor no cierres la puerta de golpe o podrías provocar que el taxista te mire con desaprobación. Las puertas de los autos pequeños son sorprendentemente ligeras. Puedes sentarte en el asiento delantero o trasero, no hay diferencia. Si tienes maletas grandes, el conductor generalmente saldrá y te ayudará con ellas. Evita darle al conductor billetes de 20,000 COP o 50,000 COP. Cada compañía de taxis tiene su propio número para llamar, así que es posible que desees preguntar cuál es la compañía local que mejor atiende tu área.
Si no hablas español, hay varias aplicaciones de taxis que funcionan bastante bien. Las dos aplicaciones más populares son Easy Taxi y Tappsi, pero más recientemente, Uber ha estado ganando popularidad en Medellín.
Fuera del aeropuerto José María Córdova habrá muchos taxis esperando para llevarte a Medellín. Solo los taxis regulados tienen permitido recoger pasajeros en el aeropuerto, por lo que nunca debería haber problemas de seguridad para conseguir un taxi en la entrada del aeropuerto.
La tarifa desde y hacia el aeropuerto es una tarifa fija actualizada anualmente, actualmente 98,000 pesos colombianos durante 2023. Nunca deberían pedirte que pagues extra por peajes o equipaje. Dejar propina es opcional y no se espera.
Para regresar al aeropuerto, lo mejor es reservar un taxi oficial del aeropuerto. Una empresa que ofrece un formulario de reserva en línea es Aerotaxi. Otra opción es ACOA Taxi Aeropuerto. También puedes usar Uber.
Hotels | Hoteles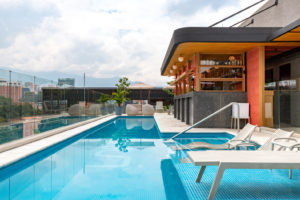 Our recommended hotels, some with an ICEE discount code, can be found on our website https://icee.mini.icom.museum/conference-hotels/
Nuestros hoteles recomendados, algunos con un código de descuento ICEE, se pueden encontrar en nuestro sitio web https://icee.mini.icom.museum/conference-hotels/.
Locations | Ubicaciones

The conference is hosted by Parque Explora.
All keynotes, sessions and presentations will take place here between 9:00 – 1:00 each day.
La conferencia es organizada por Parque Explora.
Todas las conferencias magistrales, sesiones y presentaciones tendrán lugar aquí entre las 9:00 y la 1:00 cada día.
https://www.parqueexplora.org/
Address: Carrera 52N. 73-75, Medellín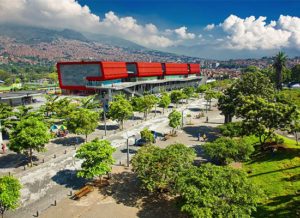 Momentum has partnered with four local museums for additional tours, discussions and fun!
Sunday 22 October
Museo de Arte Moderno de Medellín
Momentum ha establecido colaboraciones con cuatro museos locales para ofrecer recorridos adicionales, discusiones y diversión.
Domingo 22 de octubre
Museo de Arte Moderno de Medellín
https://www.elmamm.org/
Address: Ciudad Del Río · Carrera 44 N° 19A-100 Medellín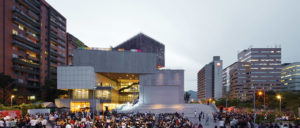 Monday 23 October
Museo de Antioquia https://museodeantioquia.co/sitio/
Address: Calle 52  #52 – 43, near Parque Berrío, Medellín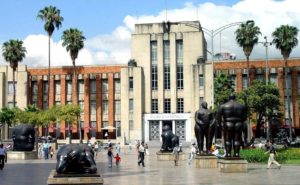 Tuesday 24 October
Martes 24 de octubre
Museo Casa de la Memoria https://www.museocasadelamemoria.gov.co/
Address: Calle 51 #36 – 66, Parque Bicentenario, Medellín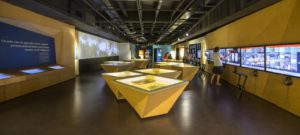 Wednesday 25 October
Miércoles 25 de octubre.
Botanical Gardens https://www.botanicomedellin.org/
Address: Calle 73 #51 D 14, Medellín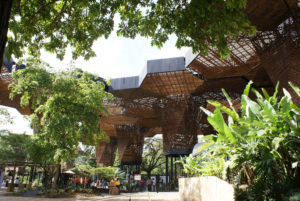 Refreshments | Refrescos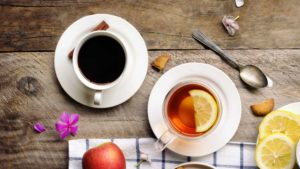 Tea and coffee will be provided every morning.
ICEE will provide lunch on the final day, 25 October, at the Botanical Gardens.
Lunch on Monday and Tuesday is not included. Parque Explora has a food court with plenty of food options available.
Se ofrecerá té y café todas las mañanas.
ICEE proporcionará el almuerzo el último día, 25 de octubre, en los Jardines Botánicos.
El almuerzo del lunes y martes no está incluido. Parque Explora cuenta con una plaza de comidas con muchas opciones disponibles.