Next Conference
2021 ICOM ICEE Annual Conference
Reimagining Exhibition Exchange
September 28 – 30, 2021
In Collaboration with the Museum of Art and History of the City of Geneva (MAH)
and ICOM Switzerland
 Registration Free of Charge

---


A virtual conference may not be how we envisioned we would gather for the 40th anniversary of ICEE, but in the spirit of resilience, we pivoted and have planned an exciting exchange of ideas and collaborations. The conference programme features four days of keynote speeches, panel sessions, networking opportunities, and virtual visits to a selection of digital exhibitions and collections from museums, science centers, and other similar organizations in Mexico, Latin America and the Caribbean, and Europe.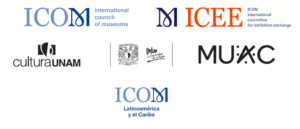 ---
Shifting Landscapes: Future Proofing Museums
in Times of Change
The conference theme addresses and analyses how cultural landscapes – locally, regionally, nationally and globally – are shifting and adapting to an unprecedented period of change. Global pandemics, shifting demographics, changes in societal values, globalisation, and technological advances are redefining how visitors interact with cultural institutions. How is the museum and exhibition sector responding to these shifting values, skills and attitudes that vary considerably across audiences? How are cultural institutions and exhibition development organizations looking at equity, diversity, accessibility and inclusion?  What networks, relationships or new collaboration models are strengthening exhibition offerings in a post-COVID world?
We invite colleagues from all over the world to join us in exploring Shifting Landscapes: Future Proofing Museums in Times of Change through subthemes of: Connect (Tuesday, November 17), Engage (Wednesday, November 18), and The Future (Thursday, November 19).
Register NOW for Daily Sessions
Registration for each conference day is separate, so navigate the complete four-day schedule, then register for the sessions you would like to attend. Registration links are provided below, and are included in the programme.
Register HERE for Sessions on Tuesday, November 17
Register HERE for Sessions on Wednesday, November 18
Register HERE for Sessions on Thursday, November 19
---
Special Sessions
The 2020 ICEE Virtual Conference will include two special sessions to discuss the operational impacts of the Coronavirus outbreak on the logistics and management of touring exhibitions (Tuesday, Nov 17 from 12:00 PM to 1:00 PM EST), and the state of professional development and capacity building for museum and exhibitions professionals in a post pandemic world (Thursday, Nov 19 from 12:00 PM to 1:00 PM EST).
Sessions in Spanish
Sesiones en español
The 2020 ICEE Virtual Conference includes sessions conducted in Spanish on Friday, November 20. These special panels and presentations, organized in collaboration with the Latin American and The Caribbean Regional Alliance (ICOM LAC) will offer ICOM members and Spanish speakers the opportunity to fully participate in discussions and exchange of ideas around the conference theme and sub-themes.
Haga clic AQUI para inscribirse en las sesiones en español del viernes 20 de Noviembre
---
FORUM for ICOM International Committees
During this session, the majority of ICOM International Committees will introduce their committees and most relevant activities for 2021 in order to make new contacts, create networking opportunities, foster membership building, and create opportunities for partnerships and collaborations across committees. The FORUM will be conducted in Spanish with simultaneous English translation. Don't miss this opportunity to learn more  about other ICOM International Committees!
Click HERE to register for the ICOM International Committees FORUM on Friday, November 20
---

Join the conversation on social media!
Use #ICEEVirtual #icomicee2020 #ExhibitionExchange to follow sessions and exchange of ideas on Facebook, Instagram and Twitter. Follow us on Instagram @icee_icom and on Twitter @ICEE_ICOM. Find us on Facebook and LinkedIn
Copyright © 2020 ICOM ICEE, All rights reserved.
You are receiving this email because you expressed interest in receiving up-to-date information about ICEE activities.
Our mailing address is:
ICOM ICEE
9401 Falls Bridge Lane
Potomac, Md 20854
Add us to your address book
Want to change how you receive these emails?
You can update your preferences or unsubscribe from this list.