Call for Papers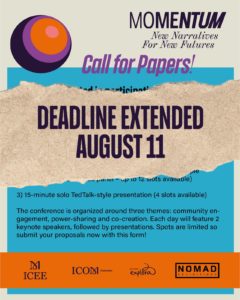 Are you interested in presenting at Momentum? Submit your proposal! Three presentation formats are available: 15-minute TedTalk-Style Presentations (4 slots), 45-minute Panel Presentations  (12 sessions), and 3-minute Traveling Exhibition Marketplace Presentations (20 seats).
Spaces are limited, so submit your proposals now!

Keep in mind:
All sessions will be presented in person; there are no hybrid options this time.
Presentations must be in English or Spanish; simultaneous translation will be provided.
The deadline to submit applications is August 1, selected speakers will be notified after August 10.
Conference registration is required for all presenters.
If you have further questions, contact: icee.icom@gmail.com
Estás interesado (a) en presentar tu experiencia en Momentum? ¡Envía tu propuesta! Hay tres formatos de presentación disponibles:  Presentaciones Estilo TedTalk de 15 minutos (4 plazas), Panel de presentaciones de 45 minutos (Cupo para 12 sesiones), y presentaciones Marketplace de 3 minutos (20 plazas).
¡Las plazas son limitadas, así que envíe sus propuestas ahora con este formulario!
Tenga en cuenta:
Todas las sesiones serán presentadas de manera presencial; no habrán opciones hídridas en esta oportunidad.
Las presentaciones deberán se en Inglés o Español; se proporcionará traducción simultánea.
La fecha límite para enviar aplicaciones será 1 de agosto, las presentaciones seleccionadas serán oficiadas después del 10 de agosto. 
El registro a la conferencia es requerido para todos (as) los (as) presentadores (as). Para mayor información del evento y el registro consultar https://ICEEConference2023.eventbrite.fr
Si tienes más preguntas, contactar: icee.icom@gmail.com