All news
September 16, 2021
ICOM ICEE Newsletter – September 2021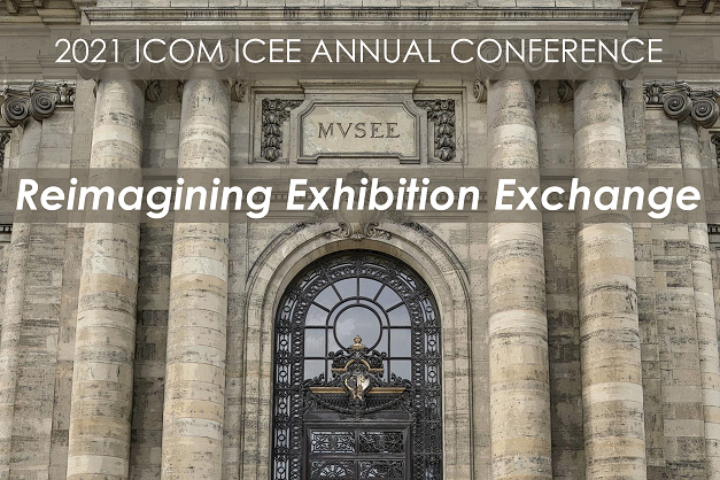 Dear ICEE Members,
In this newsletter, we are delighted to share the preliminary programme for the 2021 ICOM ICEE annual Conference. The safety of our members, participants, partners, and collaborators is our top priority. With the ongoing uncertainties of the global pandemic, along with travel restrictions and limited funds for travel, we are aware that it will be difficult for many to join an in-person conference. This is why the organizing committee has opted for a fully digital conference. We hope you can join us for the 2021 ICEE Conference! Also in this newsletter, we are sharing information about the Marketplace of Exhibitions, and the survey for the ICOM Strategic Plan 2022 – 2028.
Wishing you all a great autumn and hope to see you at the digital conference!
The ICEE Board
2021 ICOM ICEE Annual Conference
Programme Announcement
The ICOM ICEE Board is pleased to share the final programme  for the 2021 Virtual Annual Conference Reimagining Exhibition Exchange. The event is scheduled to take place from Tuesday, September 28 to Thursday, September 30, 2021, in collaboration with the Museum of Art and History of the City of Geneva (MAH), and ICOM Switzerland.
For its 2021 Annual Conference, the ICEE reflects on the future of exhibition exchange in a post-pandemic world, examining the powerful ways in which exhibitions contribute to reimagining the role of museums in an increasingly competitive cultural marketplace. We invite colleagues from all over the world to explore Reimagining Exhibition Exchange in a post-pandemic world through the lens of three sub-themes: Technology, Audience Engagement, and Operations and Practices.

The Conference Theme: Reimagining Exhibition Exchange
More than a year after the global pandemic forced institutions to shut down, museums, science centers, and exhibition developers around the world are still trying to figure out ways to keep their exhibition offerings relevant to their missions, feasible with reduced budgets, and accessible to audiences.The conference theme, Reimagining Exhibition Exchange, goes beyond a review and adaptation of logistics and procedures. It involves rethinking the way audiences engage with exhibition content, examining opportunities and challenges brought about by technology and digital infrastructures, and discussing new approaches to developing more sustainable exhibitions.
Reimagining new strategies for exhibition exchange also includes the need for improved business models, enhanced working environments, and stronger collaborations between institutions. What realistic, practical steps can museums take to embrace change? What can museum and exhibition professionals do when institutions are slow to change?
Download the Final Conference Programme
Conference Schedule and Registration Links
The digital conference schedule features three days of keynote speeches, panel sessions, networking opportunities, and virtual tours to exhibitions and museum collections in Switzerland and other countries around the world. Registration for each conference day is separate. Review the final programme, check the three-day schedule, then register for the sessions you would like to attend. Registration links are provided below:
Click HERE to register for DAY ONE Sessions on Tuesday, September 28
Click HERE to register for DAY TWO Sessions on Wednesday, September 29
Click HERE to register for DAY THREE Sessions on Thursday, September 30
Marketplace of Exhibitions Deadline for Proposals
Extended through September 17!
The ICEE Marketplace of Exhibitions will be held as a virtual event on Tuesday, September 28 as part of the 2021 ICOM ICE Annual Conference. The event provides ICEE and other ICOM members with the opportunity to network with institutions who may be interested in hiring an exhibition or collaborating on a future exhibition project. We have space for a few more presentations!
If you are interested in presenting an exhibition, please review the submission requirements and process HERE . Don't miss this opportunity to increase your business, network and find new partners!
Marketplace Proposal Submission Guidelines

Your Voice Counts: ICOM Strategic Plan 2022-2028
When we meet in Prague at the ICOM Triennial Conference in August 2022, the General Assembly will be invited to approve a new Strategic Plan which sets the direction for the Association until 2028. The ICOM Strategic Planning Committee wants to hear your input and would like to ask all ICOM members to fill out a survey on ICOM's 2022-2028 strategic plan. The purpose of this survey is to find out where ICOM should focus its strategic energy from 2022-2028. Throughout the survey, there is a strong focus on both objectives and the strategies to achieve them.
Be part of developing ICOM's future by giving 20-30 minutes of your time to complete this survey. The survey is available in English, French, and Spanish, and will be open until September 30, 2021.
Click here to access the survey.
Note: If you find difficulties answering questions that require ranking response categories, please use the drag and drop feature and select your answer. Do not click directly on the box number and manually apply rankings to each option.
Join the Conversation in Social Media!
Use #ICEEVirtual #icomicee2021 #ExhibitionExchange to follow sessions and exchange of ideas on Facebook, Instagram and Twitter. Follow us on Instagram @icee_icom and on Twitter @ICEE_ICOM. Find us on Facebook and LinkedIn
Copyright © 2021 ICOM ICEE, All rights reserved.
You are receiving this email because you expressed interest in receiving up-to-date information about ICEE activities.
Our mailing address is:
ICOM ICEE
9401 Falls Bridge Lane
Potomac, Md 20854
Want to change how you receive these emails?
You can update your preferences or unsubscribe from this list.