All news
September 29, 2020
ICEE Newsletter – September 2020
Dear ICEE Members, Colleagues, and Friends
We hope you and your loved ones are healthy and safe during these unprecedented times.
The past few months ICOM ICEE has mostly been working behind the scenes, taking on a very active role in discussions aimed to improve the operational environment of International Committees and other ICOM groups. We hope that these additional efforts will help create a better organization for the future. In this newsletter, we would like to share our immediate plans and activities, including the 2020 Virtual Annual Conference on November 17-19, with our members, friends, and colleagues around the world.
Thank you for your continued support. We wish you the best in health and wellness.
The ICEE Board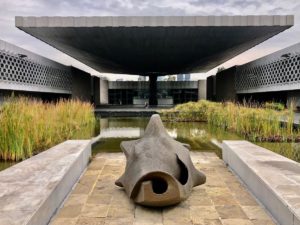 National Museum of Anthropology, Mexico City
SAVE THE DATE!
2020 ICOM ICEE Virtual Annual Conference
Shifting Landscapes: Future Proofing Museums in Times of Change
The 2020 ICOM ICEE Annual Conference Goes Virtual on 17-19 November!
For the health and safety of our members, colleagues, and local partners, the Board of the International Committee for Exhibition Exchange had decided to cancel all in-person activities planned for the 2020 Annual Conference in Mexico City, Mexico. For the first time, the ICEE Conference will be held live online.
The 2020 ICOM ICEE Virtual Conference will be held from Tuesday, November 17 to Thursday, November 19, in partnership with the National Institute of Anthropology and History (INAH), the National Museum of Anthropology, and the University Museum of Contemporary Art (MUAC-UNAM), all located in Mexico City.
The virtual conference will feature three days of keynote speeches, panel sessions, networking opportunities, and virtual visits to some of the finest cultural and science institutions in Mexico and around the world. Participants will be able to interact in real time with speakers or catch up later with on-demand access. Registration will open on Monday, October 19.
The conference theme, Shifting Landscapes: Future Proofing Museums in Times of Change, addresses and analyses how cultural landscapes – locally, regionally, nationally and globally – are shifting and adapting to an unprecedented period of change around the world. We invite colleagues from all over the world to join us in exploring Shifting Landscapes: Future Proofing Museums in Times of Change through subthemes of: Connect, Engage and The Future.
Additional information about our 2020 Virtual ICOM ICEE Conference will be provided in the coming weeks. Please check our website, Facebook, Instagram, Twitter and LinkedIn for frequent updates about the schedule, programme and registration. Until then, we hope you and your families stay healthy and safe.
Reflecting on Exhibition Exchange in a Post-Pandemic World
The last six months have been a turbulent time for everyone. The Coronavirus has had an enormous impact around the world, hitting the museum field particularly hard with thousands of institutions around the globe closing their doors due to national lockdowns.
Travelling exhibitions were suddenly stopped in their tracks, and are only now restarting their journeys to new venues. Exhibition developers and hosting venues are working non-stop trying to adapt to new post-pandemic rules filled with drastic budget cuts, reduced staff, and social distancing protocols.
The recent social justice movements led by the Black Lives Matter protests forced Western museums and science centers around the world to rethink the way they work.  In a post-pandemic world, the need for increased equality demands these institutions take a critical look at themselves, the stories they are telling, and the way they reflect society.
This is undeniably a time for exchange- not only for exhibition exchange, but more importantly for stories, emotions, respect, empathy, and knowledge. At this point, we do not know what the future will hold for the exhibition exchange field, but one thing do we know is that any crisis is an opportunity to accelerate innovation.

Celebrating 40 Years of Exhibition Exchange!