All news
April 7, 2021
ICEE Exhibitions Marketplace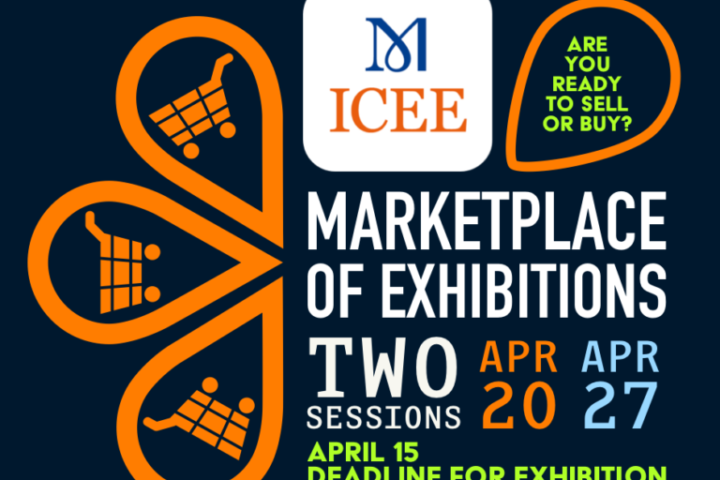 Guidelines on ICEE Exhibitions Marketplace
Tuesday 20th and Tuesday 27th April 2021
12:00 PM – 2:00 PM (EST) (New York)
The Exhibitions Marketplace is intended to provide members of ICOM and the ICEE with the opportunity to network with institutions who may be interested in hiring an exhibition or collaborating in a future exhibition project.   We welcome the presentation of all newly developed exhibitions and exhibition ideas currently in development.
The format of the Marketplace will be a series of 5-minute pitches on exhibitions for which registered presenters are seeking venues or a partner or multiple partners.  Pitches will be grouped by exhibition type over the two-day session. Presenters may have the opportunity to pitch more than one exhibition, however all pitches must be kept within the allocated 5-minute time slot.
The 2-day event will be divided by exhibition/project types:
April 20: Natural History and Science & Technology
April 27: Art and Culture
Due to time constraints, questions from the audience will not be allowed during the session.  Contact information for all presenters will be provided.
Process and timelines
Submissions must use the template as described below. Please submit your pitch using Microsoft Office PowerPoint slides.  It will be the responsibility of the presenter to prepare their submission using the template below and send it by Friday 9th April via email, to ICEE Board Members:
Some presenters may have more than one exhibition to share. In order to provide this opportunity to as many of the membership as possible, presenters will be asked to rank their exhibitions in priority order if a second 5-minute slot is preferable or include one or more exhibitions within their 5-minute slot. The decision on the final list of exhibitions to be presented shall rest with the ICEE Board.
Please note that it will not be possible to show video clips during presentations due to time constraints.
By submitting a pitch all presenters agree to the sessions being recorded and shared with ICEE members as and when decided by the ICEE Board.


---
TEMPLATE
[TITLE OF EXHIBITION]
Fact Sheet
This exhibition concept is copyright [name of organisation].  It is confidential, and should not be shared with third parties without the prior written consent of [name of organisation]
Organiser:                                  [name of gallery, museum, science center, organization]
Objects:                                      [number of works/artefacts/objects]
Space Requirements:              [in sq. ft. and sq. meters; in one building or more]
Participation Fee:                    [If applicable.  Itemise what is included in the fee, stating an actual fee is optional]
Shared Costs:                           [approx. costs & with how many institutions]
Schedule:                                  [dates for each venue]
Publication:                              [short description if applicable]
Contact/s:                                 [name of contact in organisation, address, e-mail & telephone]
Description of Exhibition:    [1 slide]
Selected Images :                    [4 slides, maximum 8 images]
Date:                                         [fact sheet creation]